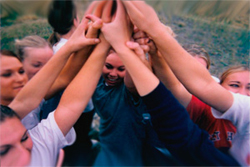 How We'll Do It…
Our FUTURE QUEST team is growing and includes some of the following participants. With their help we will provide educational coaching, guidance, contacts, materials and resources for children, including access to recording and visual production studios, and all related materials for such inspiring productions.

Our Team - Past, Present, and Future

TV and film Producers...


to coach the kids on every aspect of production, from ideas and writing to post production and promotion: Greg MacGillivray, Ron Frank, and our exciting "A to Z" list furnished by the kids.

Celebrities...


to help the kids be seen and heard, and have more fun: Jeff Gordon, NASCAR (Interview about Teamwork), Sting (shared music), and
The kids "A to Z" list.

---
The Project Results…
Through the collaborated efforts of the FUTURE QUEST team, today's young people will:
Be aware


of the environment, wilderness recreational use, and the economy -- and how it relates to them...

Be equipped


with tools to deal with the future
Learn how


to use media technologies to present their ideas
Experience


the tools needed to teach others
Learn to


respect themselves and the world around them
---

Today's young people will also learn to be socially responsible through financial donations. We will sponsor youth groups to attend outdoor adventures, kids summer camps, an environmental news letter via the schools, funding prototypes of go-green inventions, seminars, and school assemblies on the environment. We will make contributions to environmental and land trust organizations to protect open space and restore the rivers and forests.
For More Information
Contact:



Mary Ellen Bickford
(615) 383.1111



info@kids-x-press.org